Greetings once again! We're back with another update for you!
SPECIAL INTERVIEW

It was a pretty exciting week! If you haven't had the chance to check out our interview with Principally Uncertain, then you can access it by clicking HERE. In it, we don't really hold anything back. We talk about our struggles, we talk about our dedication, we talk about our very, very humble beginnings. And we talk about how this very eccentric, but close knit group got together. In our conversation, we realized how far we've come and how far we have to go. We also realized how dedicated we are to Mender's Strife. We're so dedicated that it's taken on a life of its own.
We hope you'll check it out, leave us a comment and such!
OUR FIRST FAN ART

On another note from the interview, Ash from Principally Uncertain created this awesome fan art of Marah. It's totally awesome!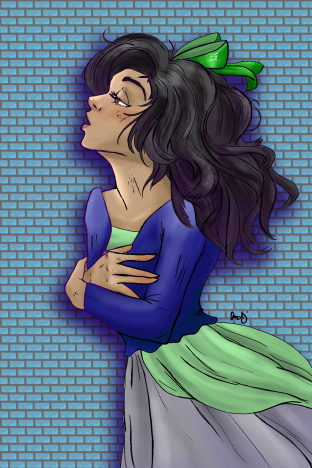 DEMO 2.0 UPDATE

We have made some progress on Demo 2.0. A game system we've been wanting to share with you has been implemented! I don't want to share much right now as final details are still being worked out, but I can say that it has to do with Marah... and her options in the game. Vague, I know... but it can't be helped.
Music is coming along as well. Would you like more of a taste of the new chiptunes? We might be planning a little release. Would that be of interest to you? Let us know!
SOCIAL MEDIA/ONLINE PRESENCE

You may have noticed that we've picked up on our social media posting. We have renewed our social media presence in hopes that we could better connect with you all. In addition to our Facebook Page, we have increased presence on our Twitter Account. You may also want to check out our Twitch Channel and join the conversation by jumping on to our Discord Server. Want to send us a direct message? You can fill out the Contact Form on our website or even email us directly at took2longproductions@gmail.com. If you ask, we will provide an answer (of the non-spoiler variety) if we are able. Speaking of connections....

NEW POLL

We have a new poll on Facebook up on how you would most like to connect with us! It involves 2 choices, Discord or Twitch. While we have and will certainly continue to use both, we want to focus on where YOU would like to connect with us. The poll closes in the next 5 days and we welcome your feedback. You can access the poll by clicking HERE.
WILSON GAME

We've hinted, it's been tossed around.... but we've committed to going through with it. Be prepared to enter into the world of Raushida... according to Wilson. We're putting together a fun, grindy, game featuring Wilson as well as Glimmer, the faerie you meet at the end of the demo. It will be a direct connection to Mender's Strife and will not affect development of that game (in fact, it would help us quite a bit in development). We hope to share more of that soon!
UNTIL NEXT TIME...

Thanks for reading! We had a lot to share this week! We hope you're getting as excited in anticipation for this game as we are in preparing it. Be sure to share it with friends and family who might be interested... Bethel would approve.

----------

This is a weekly devlog that is posted after our team meets on Wednesday evenings. We may not always have a lot to share, but we want to keep you informed. Be sure to check back next week!

Files
Mender's Strife Original DEMO Mockup OST (Zip File)
44 MB
Oct 19, 2017
Mender's Strife Demo 1.1 (Zip File)
115 MB
Oct 19, 2017
Get Mender's Strife: An 8-Bit Fantasy